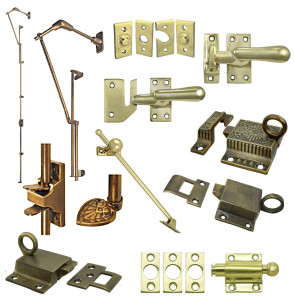 Swing into style with our authentic Victorian style transom window operator, spring loaded pull latches and pivot hinges.
Made of solid brass and steel springs our hardware faithfully reproduces the look, feel, and quality of the Victorian age.
To assure the highest level of detail we use the "lost wax" casting process and molds taken directly from the antique originals.
Our operators will work for transom windows in any of four configurations. Center pivot window with either the top or bottom swinging in and bottom and top hinged windows with the opposite top or bottom swinging in. Available in lengths up to 8' to reach even the highest transom windows.
Our pull ring spring latches (designed to be operated from floor level by a chain, cord or rod with hook) are available in both the top ring and end (or side) ring configuration to maintain historical accuracy when needed. Or go with the extra fancy decorative Windsor pattern latch with it's beautiful details.
We also carry several types of casement locks and stays which were frequently used when transom style windows were located within reach.