Antique restoration is as popular today as it was 100 years ago. The wood of a beautiful oak filing cabinet, a solid roll top desk, and sturdy wood cabinetry never goes out of style, but finding period roll top desk hardware can be challenging.

If you are restoring a vintage cabinet, roll top desk, antique filing cabinet or you are trying to find vintage style hardware which can be used during the construction of a cabinet that will allow it to take on a vintage or antique appearance, the Vintage Hardware website has an extensive range of reproduced cabinet hardware in Victorian, Edwardian, Arts & Crafts, Mission, Art Nouveau, and Art Deco styles.
We offer vintage cabinet hardware , roll top desk hardware and filing cabinet hardware that is not usually found in regular hardware stores or in retail

stores. The vintage file cabinet hardware which is found on our site includes the elegant brass label holders and these may be obtained in varying sizes and shapes. These are ideal for a cabinet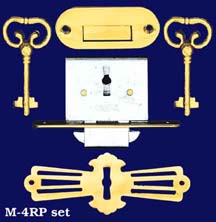 builder, restorer or for use in a new reproduction of an antique filing cabinet.
Many people own antique roll top desks, but are missing the original locks or have locks that are old and rusted. Maybe you're missing the original skeleton key ? Well Vintage Hardware can help you out. We reproduce high quality reproduction roll top desk hardware . Whether you're looking for roll top desk locks , skeleton keys , or desk handles , we've got it. Our high quality brass costs a little more because we cast, not stamp, the brass, casting from high end genuine antique hardware .
Our high quality roll top desk lock set , includes the lock, a catch plate, two skeleton keys, and a faceplate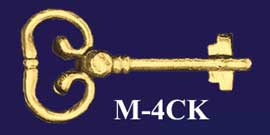 with keyhole cover. Choose from a desk lock set , catch plate with oval corners or
desk lock set , catch plate with standard corners.
We also sell just the roll top desk lock , this gives you the option of customizing the look you want to achieve for you roll top desk We have hundreds of keyhole covers , desk handles , and desk knobs , so you can match existing hardware or create your own unique look.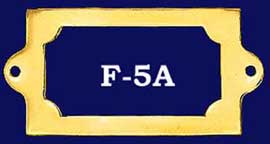 Does your roll top desk or filing cabinet have those hard to find antique label frames that are missing or damaged? Well look no further because like a lot of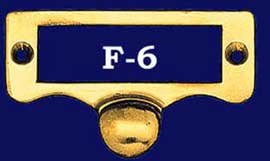 items that we remake we also make label frames , for antique filing cabinets and desks. We offer these useful little items in several different sizes and with or with out pull tabs.
All of our hardware is available in hand applied hardware finishes , including, antique brass, oil rubbed bronze, and pewter. A favorite finish is the hi-lo finish where the brass is left darker in the crevasse and lighter on the high spots, as natural wear would look.
While going through the choice of vintage cabinet hardware , be sure to view our impressive antique lighting and vintage lighting , and the home hardware , for doors, windows, and shutters, as well as stair hardware and floor registers and grills .