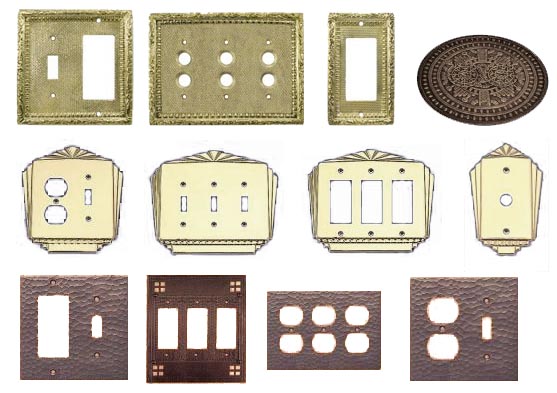 Light switch covers, or switchplate covers as they are sometimes called, serve both a practical and an aesthetic function in every home. If you want something else than ordinary plastic switch plates – brass or copper outlet covers is the way to go. These vintage looking switch covers are accurate recreations of Victorian, Art Deco, or Arts & Crafts / Mission style covers that were manufactured in the beginning of the 20th century.
The Art Deco and Victorian covers are made from solid, cast brass (unlike the cheaper-made, poor quality stamped brass you will find in big box stores). Hammered copper is used in the Mission, Craftsman, and Arts & Crafts style switch plate and outlet covers.
All the covers come in various functions, such as cover plates for outlets, GFI plates, phone cord outlet, push button switches, multi-socket outputs, and combo lightswitch/outlet.