A lot of home owners are looking for authentic style
brass floor grilles and registers
. There's worry about high traffic areas and damp areas that regular
floor grilles
won't last long. What if they rust? Well there is no worry with our high quality brass, not only are they dependable and durable, they are also very eye pleasing over regular steel, aluminum or tin floor grilles. A lot of boat owner's use these grilles on their boats because brass is very weather resistant, even in salty air places.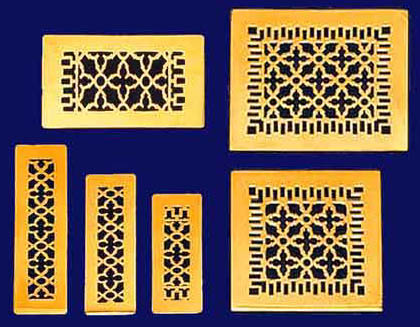 If you're going to the time and expense of being respectful to history, make sure your brass floor and wall registers look authentic. Look for a highly experienced company with which to do business.
Vintage Hardware makes solid heavy cast brass grilles or iron grates , in a huge assortment of sizes for every purpose. Most sizes are available with or without a damper. Be assured that you are buying the best quality floor and wall grilles available in America today. They are suitable for use on ceilings as well as floors.

No one polishes brass better than we do, because no one else bought an 80 Horsepower auto-buffing machine to buff grates but us. Competitors either hand polish with resulting "wavy" finish or sand blast their finish and call it "matte". You can pay more for other sources' brass grilles , but you cannot buy a better quality than ours.
Our reproduction floor and wall registers, are divided by material, brass and iron and whether you desire damper controls or no damper. We have a variety of sizes available, but if you have an irregular size, and have a sample of exactly what you want, we can duplicate it for you. It requires patience, and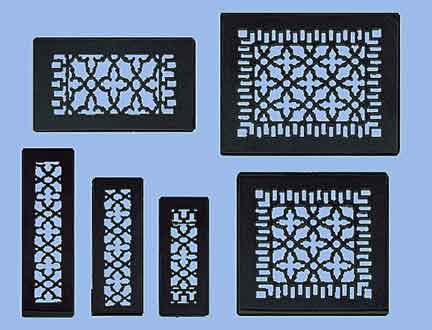 understanding that special size orders can be pricey. How ever be assured that you are buying the best quality grilles in America.
See our reproduction brass wall or floor registers without damper controls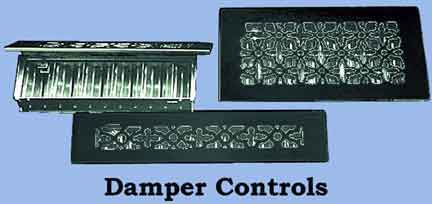 and our reproduction brass wall or floor registers with damper controls and our Quality cast Iron wall or floor registers with damper controls and cast Iron wall or floor registers without damper controls.
When it comes to floor grate , they do not come more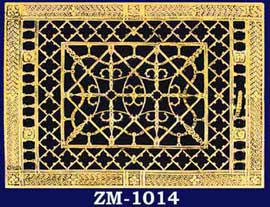 attractive than this!! Supplied complete with cast iron damper, it is a superb restoration item. The detail of the pattern could only be reproduced nicely by Lost Wax casting, and while this makes this grate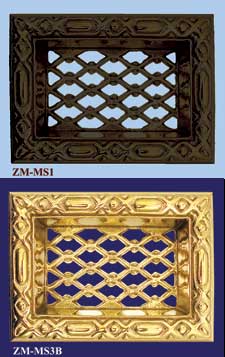 pricey, we know it is the most beautiful on the market – anywhere. Consider it also as an air intake for your elegant ceiling.
True reproduction Victorian Brick foundation grates, available in either solid brass or solid iron. We located very scarce and hard to find old samples to recast this one. Could be used elsewhere, too. Not for floors…but nicely used in walls & ceilings.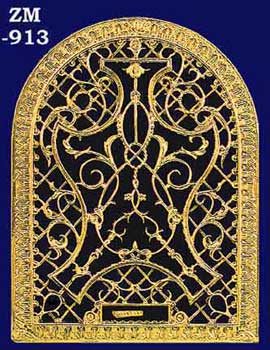 Magnificent! Now there's a word that we don't often use…but in this case, it is fully justified. Lost Wax cast for perfect detail. This arched wall grate can be part of your air system, because the cast iron functional damper is included, and because we make a galvanized boot with a 4"side outlet that goes below floor. You can retro fit this grille, damper and boot combination into any wall, between studs, and pick up the 4" duct below floor with a duct system. Grate and damper are a set-order boot separately.
Made to fit into a 6" or 8" round hole or duct, these round wall or floor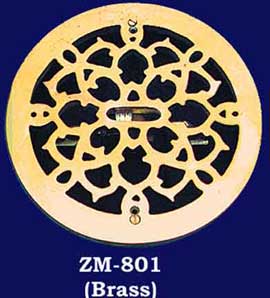 grates have an exterior diameter of approximately 1" greater than their boot size. The damper is made from finely cast iron with a Lost Wax Cast brass operator. You won't find better anywhere, at any price.
Another large item – What a beauty. This wall or floor grate is perfect for those large return air applications. Fits a 16 1/2" by 25" boot (opening hole) and has an overall size of 18" x 26 1/2". Weighs about 40 pounds! Available in either a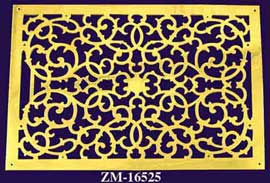 polished, unlacquered brass, or a darkened "antique" finish to blend with older period homes.
We also offer grille boots to go with some of our special size grilles. Sold separate from the grille, for our customers who are doing renovations and may not need both.
See all of our quality cast brass and iron floor and wall registers and all of our size and damper options at vintagehardware.com