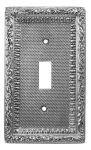 One of the first things a visitor sees is your light switch covers next to your entry door. Are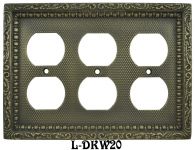 your light switch plate covers and outlet covers true to the period of your home? If you're going to the time andexpense of being respectful to history, make sure your antique switch plates and antique wall covers look authentic. It's never too late to invest in quality brass switch plate covers and outlet covers . Vintage Hardware & Lighting makes over 100 wall cover plates to suit every period home switch plate need.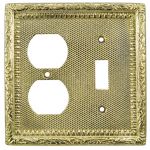 We make Victorian switch cover plates ; Arts & Crafts switch plate covers , Mission switch plate covers , and Art Deco switch cover plates . We also make blank wall outlet covers in many sizes of brass, oil rubbed bronze, ni
ckel, and copper. We also sell push button light switches for your period home 1890-1944. We make push button light switch covers in all our antique switch plate cover styles.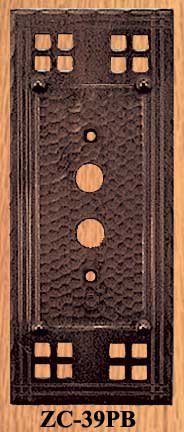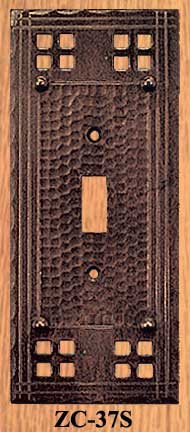 We have genuine copper Arts & Crafts decorative switch plate covers . Our decorative Mission wall plates are hand hammered switch cover plates from thick sheet copper. It's part of your decor that will be used every day.
Vintage Hardware & Lighting carries three authentic Arts & Crafts wall plate patterns : the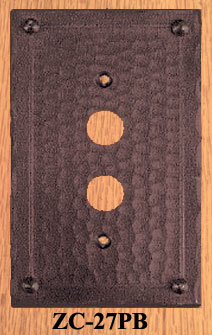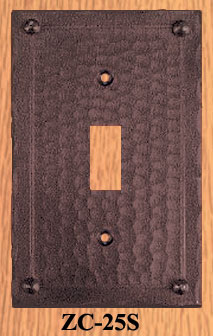 Arts & Crafts Field Pattern switch plate covers , Arts & Crafts Pacific pattern switch plate covers , and a series of plain copper wall switch plates without a pattern. In all, we make 63 options of hand hammered copper vintage electrical light switch plates. All of our vintage style copper wall plates are finished in an aged copper patina. Mission decor hardware blends well with copper outlet and switch covers.
There is a dedication and attention to detail that is difficult to replicate, if creating Victorian switch plate covers and Victorian decorative wall plates . Vintage Hardware & Lighting uses a heavy weight brass precision metal and graphite die casting for its Victorian antique outlet covers, and has copyrighted the design.

Choose a company that gives you options within the one particular era of antique switch plate covers that you're most interested in. We can meet all of your vintage reproduction wall plate needs. We also make wall plate blanks, from one toggle switch to quad toggle switch size, for custom wall switch plate applications.
For the Art Deco period 1920-1944, we offer Art Deco switch plate covers for Art Deco single toggle switches , up to Art Deco triple light switches , and a wide variety of Art Deco GFI switch plates and Art Deco outlet covers .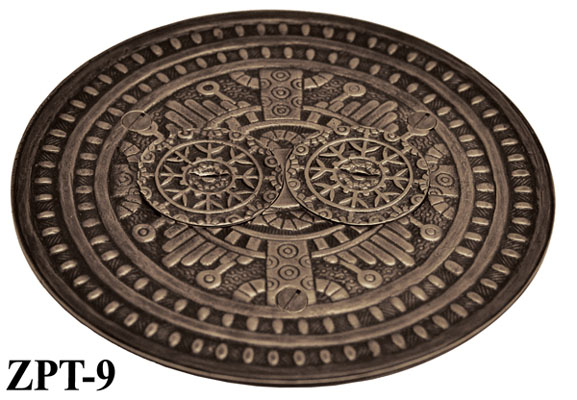 This Windsor decorative floor outlet electrical cover is one of the nicest and highest quality electrical floor box covers ever made, inspired by the Windsor high end home hardware line. Made of solid brass and machine tool finished, this very attractive cover was specially made for a Victorian building which would only accept the best. Copyright Design by Vintage Hardware , this is truly a eye catcher decorative element for all outstanding construction projects.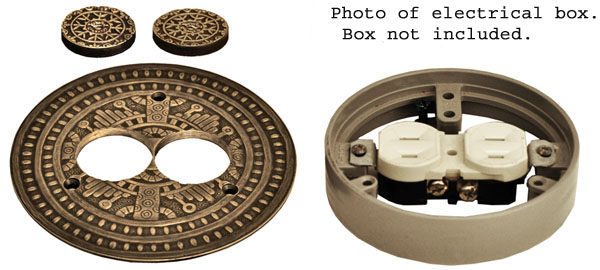 We've had clients place these in high-end countertops in kitchens, as well as in a wainscoted wall. Blends beautifully into a Victorian or Edwardian carpet design, too. Windsor Hardware was popular in 1885, at the start of theArts & Crafts movement, and this coverplate looks terrific in a Mission or Arts & Crafts , prairie style, or bungalow wooden floor, too.
Look for a company like Vintage Hardware that takes its job seriously and pays attention to the details in restoration hardware. In fact, our reproduction brass switch plate hardware is of such high quality and so authentic that we've sold antique reproduction hardware for many movie studios and television studio productions.
Your vintage electrical light switch covers are the jewel of your home, and should last for many generations. Finding the right reproduction decorative vintage switch plates can make all the difference. Sometimes it's the little things that can really make a room look and feel like a historical restoration.