Vintage Hardware & Lighting
manufactures
pocket door hardware
for single pocket doors or double pocket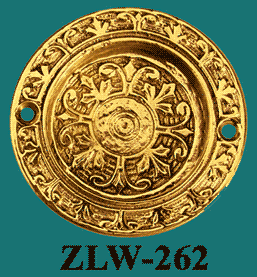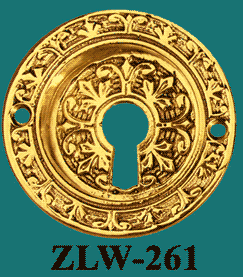 doors. Look for
Victorian
,
Windsor
,
Roanoke
,
Arts & Crafts
, and plain designs to suit every style decor. We have reproduced many historically significant pieces for your accurate restoration projects, including
R&E
and Eastlake pocket door handles.

Designed more than one hundred years ago as space savers, pocket doors became very popular in the Victorian style homes of the late eighteen and earl

y nineteen hundreds. Used primarily as entrances to stately libraries, elaborate dining areas, or even a basic sitting room. Most guests in homes in that era never made it past the first parlor, maybe even lucky enough to reach the second parlor. People were very private and did not want their affairs easily overheard.These room dividers continued to increase in popularity until seemingly dropping completely from the architects planning boards.
Much speculation surrounds the disappearance of the pocket door at that time, there are several factors involved. Most of the hardware manufactures producing pocket door hardware went out of business, and most likely the end of pocket door use came down to the quality of hardware available. Home owners were tired of tired of creaking, jamming in the walls, and doors coming off the tracks, as their home hardware aged. We reproduce only the best antique pocket door hardware available in the last 100 years.


The Arts & Crafts Movement was the artisans' response to the Industrial Revolution. They encouraged customers to buy handmade goods, produced using local materials. Also known as Craftsman style, Gustav Stickley and the company that bore his name are credited for putting Arts & Crafts into the American culture.
These lost wax cast Arts and Crafts pocket door handles are originally circa 1920, available with or without a keyhole. Solid brass, copper coated and darkened.
See our full line of reproduced Arts and Crafts style hardware and Arts and Crafts style lighting .

PF Corbin was a high end manufacturer during the Victorian era. His name assured quality, so as with many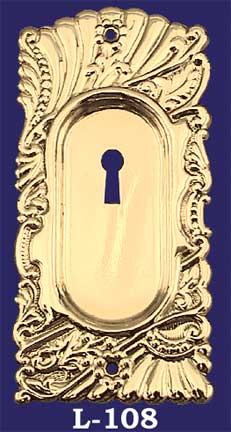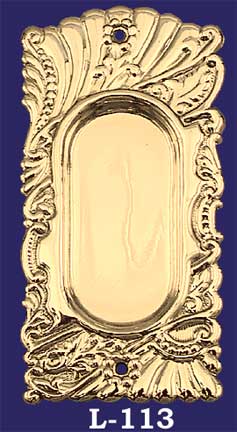 fine products, he had many imitators. One of his most popular and highly detailed patterns was "Roanoke ". Our reproduction is taken from a quality original antique.
This is the small Roanoke pocket door handle with a keyhole. If you are thinking outside the box, a small handle like this works well on sliding door furniture, such as a credenza, that you would like to lock. We also offer this Roanoke pocket door handle without a keyhole .


The Roanoke pattern was so popular that it had its imitators. While these plates are very pretty, and matching to Roanoke, they were not made by Corbin but by a competitor. Competitors walked a fine line to not infringe on Corbin's design patent. At first glance, who could tell? And across the room from each other – impossible.
Victorians could use the high end products in public parlors and dining rooms, and the less costly hardware in their private rooms.
We made these imitation Roanoke pocket door handles because they were complementary and were larger pocket door plates. The imitation Roanoke pocket door handle with out a keyhole could also be used as a large sash lift. Choose from solid un-lacquered brass, or one of our custom applied finishes.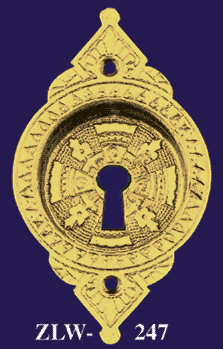 Eastlake was a British architect and furniture designer. Trained by the architect Philip Hardwick, he popularized William Morris's notions of decorative arts in the Arts and Crafts style, becoming one of the principal exponents of the revived "Early English" or "Modern Gothic Style" popular in Victorian architecture. Eastlake was a supporter of the Arts & Crafts Movement, believing in local craftsmanship and materials. His shallow, simple lines of decoration were intended to make cleaning easier. These Solid lost wax cast brass Eastlake pocket door handles match our eastlake style hardware , and add a lovely detail to your doors. These pocket door handles are marvelous quality, with fine detail that comes from a lovely antique original. Available with or with out keyholes.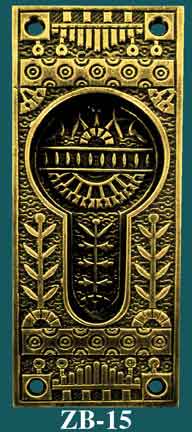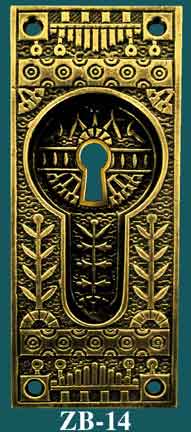 Reading Hardware Company introduced a popular pattern circa 1885, called Windsor . It is very attractive antique home hardware , and many items were made to match. We present re-creations, lost wax cast from antiques that have been collected over many years. Our Windsor home hardware items are all "high end" quality brass and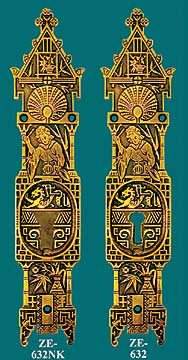 workmanship. You'll be amazed at the weight and detail when you see your order in person. This Windsor pattern pocket door handle is solid cast brass, and
available in the darkened "antique" finish, and in the nickel plated
brass finish, also available without a key hole.


R & E stands for Russell & Erwin . Before 1870, American door hardware was rather mundane. Our line of R&E hardware is carefully reproduced by 14 skilled bronze and jewelry craftsmen. These beautiful items are Lost Wax cast in Silicon Bronze, specially treated to resemble old patina hardware, then hand waxed. These reproductions are so fine they have fooled historical societies, so we protect genuine antiques by marking ours with an "A". Every item here is taken from an original antique sample, complete in every detail.
This gorgeous R & E pocket door plate , has often been claimed to be the most outstanding pocket
door handle that have ever been produced.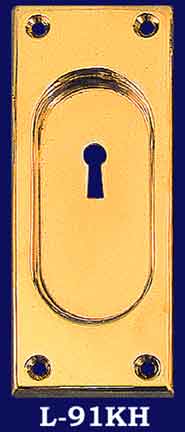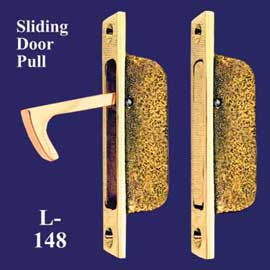 These simple Fine, heavily wrought, not stamped, recessed plain pocket door handles. Although the Victorians would use fancy handles in the rooms that the public visited, like the parlor and dining room, this would have been used in the private rooms. Also a frequent choice for cottages, farmhouse, and arts & crafts bungalows. This style is popular with mid-century modern restorations also. We also make a mortised pocket door pull for easy movement of the door when fully pushed back into the wall.
Available in nickel plated brass, for a "cleaner" modern look.
Where else would you find vintage style pocket door locks for both single and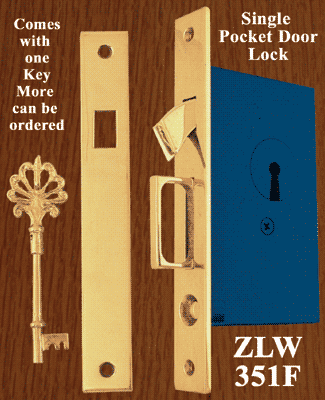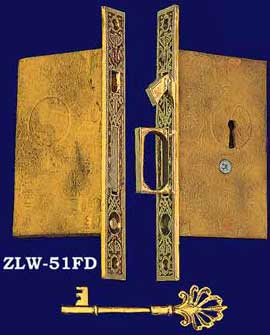 double pocket doors ? Vintage Hardware & Lighting strives to be your one-stop restoration hardware specialist. Today's home builders are rediscovering the efficiency of hidden doors and recessed doors . Pocket doors require less square footage to operate, increasing your usable space.

See all of our reproduction pocket door hardware and pocket door locks at vintagehardware.com