Looking for the replacement brass casters or caster cups without wheels for that special piece of furniture that you just can't seem to find anywhere else?
Vintage Hardware Lighting recasts most of the popular styles and sizes of chair caster and chair terminal ,

table leg caster and table leg terminal , and even a rubber wheel tea trolley caster . Our wheel casters include brass, porcelain, and wooden wheel casters .
Our selection of casters and toe caps come in a solid brass that is also offered in a few different finishes, antique brass finish, oil rubbed bronze finish, and pewter finish, some available in nickel plated brass.
Many of our casters will snap into the old sleeves left in old furniture.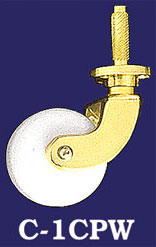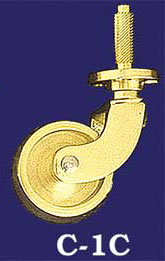 These solid brass furniture toe caps protect your furniture from damage. They come in a selection of different sizes, and since they are sand cast there are "slight" variations from each casting. Casting creates a thicker metal cup as opposed to stamped brass.
Moving furniture on carpet requires a hard wheel in order to smoothly roll; our porcelain casters and brass casters work great and allow your furniture to glide across the floor for easy moving.
Antique Casters Weren't really made for "Big" moves; they were mainly for moving a few feet here and there for cleaning and to hold wooden legs up off the floor to keep them from rotting when water was left after mopping. Our porcelain and brass casters work well on wood floors,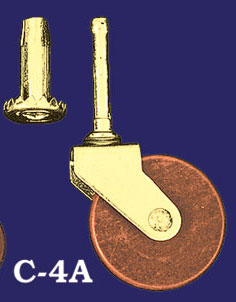 but again are not meant for frequent moves.

Both of our wooden wheel casters (C-4 & C-4A ) are identical to most used circa 1900. Wooded wheel casters weren't big in America during that time, and were rarely seen on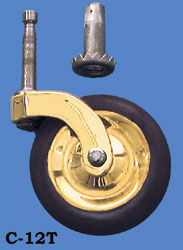 furniture aside from British imports. They were mainly used in Europe. These wooden wheel casters come complete with steel sleeve but many times these casters will snap into the old sleeves still in old furniture.
Pictured is our popular rubber wheel caster , made for small table and tea trolleys, because the size of the wheel is so large, it smoothly glides over the floor. With soft rubber wheels there's no worry about scratching your fine hard wood floors.
vintage Hardware also reproduces brass toe caps and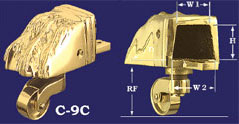 brass cup casters , finer casters cannot be found. Carefully sand cast with precision cores and finished through 5 processes. Internal measurements for the toe cap casters can very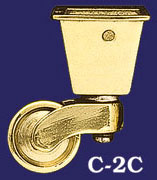 slightly due to the nature of sand casting. Solid, high polish brass finish or an antique finish to blend with older existing hardware.
Our Cup Casters are available in round and square fittings and come in different sizes. These style casters are useful when it comes to installation. Just pop them on with out the worry of drilling out holes or damaging or cracking the legs.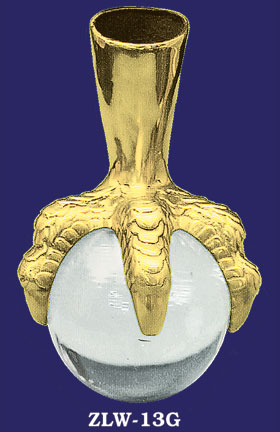 Big and beautiful, this large reproduction claw toe cap uses a 3" solid GLASS ball–unlike cheap copies elsewhere that use a plastic ball. Glass ball has bubbles and swirls because it is hand poured just like the antique ones. Made for decoration, this toe cap is grand and really puts that extra detail into any piece of furniture.
This small antique reproduction claw toe cup , with real glass ball insert, tapered leg terminal is available in two sizes and adorned with a mythological face, great for table legs and side tables. Like most of our brass antique reproduction hardware, the smaller claw toe cap can be ordered in an antique brass finish to blend with older existing furniture hardware
See all of our reproduction furniture toe caps and casters at Vintagehardware.com